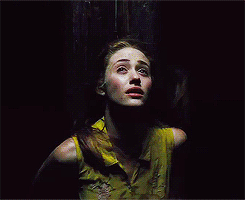 Claiming is the term for a Caster choosing Light or Dark depending on their true nature and personality. Casters are only claimed when the moon is out and if there is no moon out, then they aren't Claimed.[1]
All Casters, except the Duchannes family, have free will in their Claiming whether they choose Light or Dark. Genevieve Duchannes used the Book of Moons to try to resurrect her lover, Ethan Carter Wate, and in return she made herself turn Dark and gave up the free will of her descendants in the Claiming. Lena Duchannes is the only member from the Duchannes family that had free will in her claiming as she is the second Natural.
Lena's Claiming
Edit
Lena claimed herself both Light and Dark causing the Order to break.[2] Lena's claiming had consequences: If she claimed herself Light, all of the Dark Caster in her family will die, and vise versa. Claiming herself to both the Light and the Dark required the sacrifice of one Dark Caster and one Light Caster from her family. Larkin Kent was sacrificed from the Dark and Twyla Valentin from the Light. 
"...Until the darkening bringes the tyme of clayming, at the sixteenth moone, when the person of powere has the freedom of wille & agencie to caste the eternal choice, in the end of daye, or the last moment of the last oure, under the clayming moone..."[citation needed]
"...The clayming, once bound, cannot be unbound, the choice, once cast, cannot be recast.  A person of powere falles into the great darkening or the great light, for all tyme.  If tyme passes & the last oure of the sixteenth moone flees unbound, the order of things is undone.  This must not be.  The Booke will binde that whiche is unbond, for all tyme."[citation needed]
"Amongst personnes of powere, there being twinne forces from whyche spring all magick, the darknesse & the light."[citation needed]
"At the tyme of the clayming, the truthe will be made manifeste.  What appears darkness maye the greatest light, what appears light maye be the greatest darknesse."[citation needed]

"The nyght of the clayming being the nyght of greateste weaknesse, whenne the darkenesse withinne enjoins the darkenesse withoute & the personne of powere openness to the greate darkenesse, so stripped of protections, bindings & casts of shielde and immunitie, death, at the houre of clayming, is most finale & eternalle..."[citation needed]
Behind the scenes
Edit
In the film adaptation, only women from the Duchannes family do not have free will during the Claiming.
References
Edit
Ad blocker interference detected!
Wikia is a free-to-use site that makes money from advertising. We have a modified experience for viewers using ad blockers

Wikia is not accessible if you've made further modifications. Remove the custom ad blocker rule(s) and the page will load as expected.