The Caster Chronicles series is originally a four-novel series written by Kami Garcia and Margaret Stohl. After the main series was completed, a spin-off series set in the same universe was announced and is currently ongoing. A few complementary novellas have also been published.

Ethan Wate used to think of Gatlin, the small Southern town he had always called home, as a place where nothing ever changed. Then he met mysterious newcomer Lena Duchannes, who revealed a secret world where a curse has marked Lena's family of powerful Supernaturals for generations. Mysterious, suspenseful, and romantic, the Caster Chronicles introduce a secret world hidden in plain sight. A world where impossible, magical, life-altering events happen. Sometimes life-ending.
Main series - Beautiful Creatures novelsEdit
Novella (optional reading)
Cover
In-universe chronological order
Title
1.0
Beautiful Creatures
Ethan Wate is haunted by dreams of a girl he's never met. When Lena Duchannes moves into his small southern town of Gatlin County, Ethan is inexplicably drawn to her. And he is determined to uncover the strange connection between them, even if it means uncovering the one secret that could change everything.[1]
2.0
Beautiful Darkness
Together Ethan and Lena can face anything Gatlin throws at them, but after suffering a tragic loss, Lena starts to pull away, keeping secrets that test their relationship. And now that Ethan's eyes have been opened to the darker side of Gatlin, there's no going back. Haunted by strange visions only he can see, Ethan is pulled deeper into his towns history and finds himself caught up in the dangerous network of underground passageways crisscrossing the South, where nothing is as it seems.[2]

2.5

Dream Dark

When Link joined his best friend, Ethan Wate, on a quest through a mysterious network of underground passageways endlessly crisscrossing the South, he knew the journey would be dangerous. But returning home to Gatlin, South Carolina was just the beginning…[3]
3.0
Beautiful Chaos
Ethan Wate thought he was getting used to the strange, impossible events happening in Gatlin, his small Southern town. But now that Ethan and Lena have returned home, strange and impossible have taken on new meanings. Swarms of locusts, record-breaking heat, and devastating storms ravage Gatlin as Ethan and Lena struggle to understand the impact of Lena's Claiming. Even Lena's family of powerful Supernaturals is affected – and their abilities begin to dangerously misfire. As time passes, one question becomes clear: What – or who – will need to be sacrificed to save Gatlin?[4]
4.0
Beautiful Redemption
Is death the end . . . or only the beginning? Ethan Wate has spent most of his life longing to escape the small Southern town of Gatlin. He never thought he would meet the girl of his dreams, Lena Duchannes, who unveiled a secretive, powerful, and cursed side of Gatlin. So when Ethan awakes after the chilling events of the Eighteenth Moon, he has only one goal: to find a way to return to Lena and the ones he loves. Back in Gatlin, Lena is making her own bargains for Ethan's return, vowing to do whatever it takes. Worlds apart, Ethan and Lena must once again work together to rewrite their fate.[5]
Spin-off series - Dangerous Creatures novelsEdit
Transitional novella (optional reading)
Cover
In-universe order
In-series order
Title

4.5

0.5

Dangerous Dream

Catch up with Ethan, Lena, and Link as they finally graduate from high school and get ready to leave the small Southern town of Gatlin. But when Dark Caster Ridley makes an appearance, the sometime bad girl can't resist picking a fight with her sometime boyfriend, Link. Angry and rebellious as ever, Ridley ends up alone in New York City and becomes entangled in the dangerous underground Caster club scene, where the stakes are high and losers pay the ultimate price.

Where's a Linkubus when you need him?[6]

5.0
1.0
Dangerous Creatures
Ridley Duchannes will be the first to tell you that she's a bad girl. She's Dark. She's a Siren. You can never trust her, or even yourself when she's around. Lucky for her, Wesley "Link" Lincoln can never seem to remember that; quarter Incubus or not, his heart is Mortal when it comes to Ridley. When Link heads to New York City to start a music career, Ridley goes along for the ride-and she has her own reasons. As if leaving small-town Gatlin for the big city, trying to form a band, and surviving life with a partially reformed Siren isn't hard enough already, Link soon learns he has a price on his head that no Caster or Mortal can ever pay.[7]
6.0
2.0
Dangerous Deception
Ridley is missing, and Link was with her–right up until she vanished. Determined to find her, Link reunites with his New York bandmates and the mysterious Lennox Gates, who wants Rid for himself. Together they travel to the deep south, find the crossroads where blues guitarist Robert Johnson made his deal with the devil, discover a menagerie of Casters locked in cages, and uncover an evil in New Orleans that threatens to destroy them all.

This time, love might not be enough.[8]
Backstories - The Untold Stories novellasEdit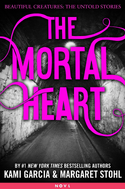 Everyone in Gatlin has a story…
Before she met and married Mitchell Wate, the beautiful and brilliant Lila Jane Evers was an honors student at Duke University. Studying late into the night in the rare books library, she is captivated by a single line of text on an old piece of parchment: "In the Light there is Dark, and in the Dark there is Light."
What can it mean?
Then one night, Lila Jane meets a mysterious young man who may have the answer. His name is Macon Ravenwood, and for every secret he reveals, he is hiding another. With Macon's help, Lila Jane uncovers the wonders of the Caster world–the Light and the Dark. But a romance between the Incubus who is fighting his own dark side and this fiercely independent Mortal is doomed from the start. The closer Lila Jane and Macon become, the more her life is in danger.[9]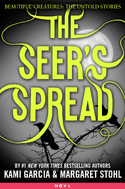 Fate is a powerful thing...
Ethan Wate is still grieving the loss of his beloved Amma when he receives an unexpected gift--the old, yellow Whitman's Sampler box that held Amma's most closely guarded secrets. "One day I might let you have a look under that lid, Ethan Wate," Amma used to say. "But today isn't the day."
Now it's time for one of her greatest secrets to be revealed. In a long-lost letter, Amma tells Ethan the story of growing up as a young Seer with a remarkable gift for reading cards. But with a power that far-reaching comes responsibility, and Amma has been honoring her mission since before Ethan was born--to protect the Wate family at any cost. So when Lila Jane Evers enters Mitchell Wate's life, bringing the whole Caster world with her, Amma turns to her cards. This time, it's a the reading that will define the rest of her life--and Ethan's.[10]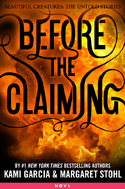 You can't hide from fate...
While looking through her grandmother Emmaline's keepsakes, Lena Duchannes comes across a little blue book with a big history--a book that changed Macon Ravenwood's life and saved Lena's.
When Lena was a baby, Seer and gifted card reader Amma Treaudeau saw a terrifying future in the cards that sent her to Emmaline's door. When a powerful Dark Caster sets fire to Lena's house with baby Lena and her father trapped inside, Amma, Emmaline, and Macon vow to protect the child. Lena's grandmother and her Uncle Macon whisk Lena away, protecting her and moving her to a new place at the first sign of trouble. But a Caster can only hide for so long, and Macon must rely on the teachings in an ancient book to control his Dark nature. Ultimately, it will be his job to protect Lena--and keep her from surrendering to a Dark fate.[11]
Characters
Edit
Main article: List of characters
Adaptations
Edit
Main article: Beautiful Creatures (film)
It was confirmed that Beautiful Creatures was set up to become a feature film by the Warner Bros company. However the years that followed, little, if any, action was being to make the novel into a movie. However, soon it was revealed that Richard LaGravenese would be the director of the movie along with Erwin Stoff producing the film. Shortly later after these given details, more and more news quickly were announced as that Viola Davis (The Help) would play Amma, Jack O'Connell (Skins) would be portraying Ethan, Alice Englert set to portray Lena and Emma Thompson in the dual roles of both Sarafine and Mrs. Lincoln. It was also announced on March 2, 2012 that Emmy Rossum (Shameless, Poseidon, The Day after Tomorrow) would be playing Ridley. Four days later on March 6, 2012 it was confirmed that Thomas Mann (Project X) would play Ethan's best friend and on/off boyfriend of Ridley, Link. Later on March 13, 2012 it was announced Jeremy Irons would be playing Lena's uncle, Macon. Later on it was told that Kyle Gallner would play Lena's cousin Larkin.
However later on, due to scheduling conflicts, Jack O'Connell had to let go of his given role and on April 11, 2012 it was announced Alden Ehrenreich was offcially set to portray Ethan. Production was set to begin in April 2012 with filming, being said by Kami Garcia herself, to be in and around New Orleans and with a theatrical release date for the movie on February 13, 2013.
Main article: Beautiful Creatures: The Manga
References
Edit